One-Pan Asian Beef & Rice Skillet
Who doesn't love a one-pot wonder?! We like introducing our families to a variety of flavors, and our One-Pan Asian Beef & Rice Skillet recipe from Five Heart Home is a great way to accomplish this without the kids turning up their noses. Kids are familiar with ground beef and rice, and take-out fried rice, so this meal won't seem too foreign. If you're worried about the oyster sauce ingredient, don't be. It adds depth without adding any fishiness. Try it out and share your review with us!
Looking for more quick recipes?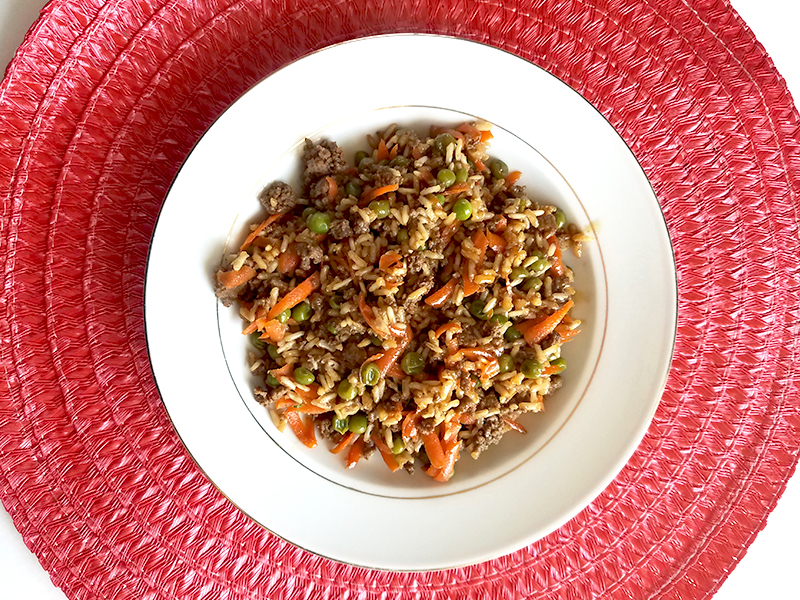 Our beautiful One-Pot Asian Beef & Rice Skillet is a blend of ground beef and rice that is full of flavors that your whole family will love.
One-Pan Asian Beef & Rice Skillet
Ingredients
Instructions
Set a large skillet, pan, pot, or Dutch oven over medium-high heat.
Add the ground beef and cook until no longer pink, breaking apart and stirring as the meat cooks. Drain the grease from the pot; add the rice, beef broth, soy sauce, oyster sauce, garlic powder, and pepper, and stir well to combine.
Increase heat to high and bring to a boil, then stir and reduce to a simmer. Simmer, covered, for 10 minutes, stirring occasionally.
Stir in shredded carrots and continue to cook for 5 to 10 more minutes, stirring occasionally, until rice and carrots are tender and the liquid is mostly absorbed. Stir in the thawed peas and cook for another minute until heated through.
Yield: 4-6 servings
Notes
If you don't have oyster sauce, you may omit it, but may want to add more soy sauce. Oyster sauce does add great flavor to Asian dishes if they are a favorite in your homes.
To quickly thaw my frozen peas, I place them in a colander and run them under hot tap water for a minute.
When you bring the mixture to a boil and reduce to a simmer, make sure that the simmer is a simmer…not barely bubbling (or the rice won't cook and absorb the liquid) and not bubbling too fast (or the liquid may get absorbed too fast and the bottom may burn). For my stove, this was medium-low heat, adjusting up or down a tad as needed when I would stir every few minutes.
If too much liquid remains once your rice is cooked, you may remove the lid and turn up the heat for a minute or two, stirring so that it doesn't burn. If the liquid evaporates before the rice is done and everything starts to stick to the bottom, you may stir in a bit more broth or water.
Adapted by: https://www.fivehearthome.com/one-pan-asian-beef-rice-skillet-quick-easy-dinner-recipe/
Comments
Instant Pot Egg Roll Bowls - Alisons Pantry Delicious Living Blog - […] One-Pan Asian Beef & Rice Skillet […]
May Webinar Recipes - Alisons Pantry Delicious Living Blog - […] One Pan Asian Beef & Rice Skillet […]
Stir Fry Yakisoba - Alisons Pantry Delicious Living Blog - […] One-Pan Asian Beef & Rice Skillet […]
Tempura Chicken w/ Vegetable Stir-Fry - Alisons Pantry Delicious Living Blog - […] One Pot Asian Beef & Rice Skillet […]
20 Minute Sausage & Vegetables - Alisons Pantry Delicious Living Blog - […] One-Pan Asian Beef & Rice Skillet […]
Cheesy Chicken, Ham & Potato Skillet - Alisons Pantry Delicious Living Blog - […] One-Pan Asigna Beef & Rice Skillet […]