Cauliflower Mash With Meatballs and Gravy
Looking for more low carb options?
How long does this last in the fridge?
Additional add-ins: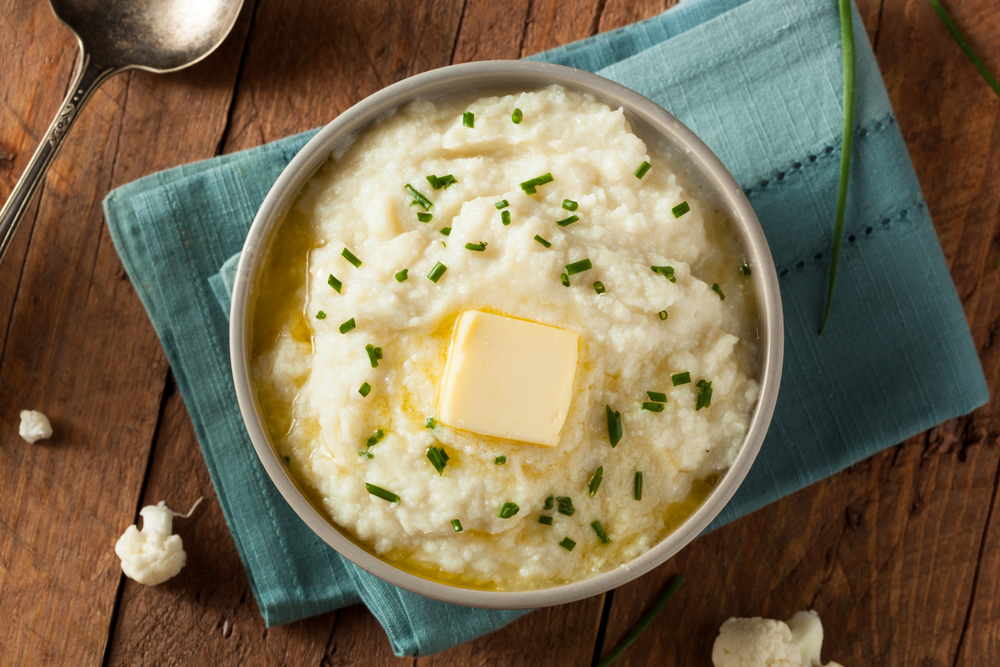 The same light and fluffy, creamy and buttery dish we all love- without the carbs. This cauliflower mash will be a pleasant surprise with how good it is, plus it goes with just about anything.
Cauliflower Mash With Meatballs and Gravy
For the Cauliflower Mash:
For the Meatballs:
For the gravy:
Instructions:
Take all but 1/4 cup riced cauliflower to a food processor. Add salt, pepper, butter, parmesan cheese, and process until smooth. Transfer to a bowl and mix in the remaining ¼ cup cauliflower. Set aside.
Place frozen meatballs in a skillet, cover and stir occasionally for 25-30 minutes or until browned and cooked through. Remove the meatballs from the pan, and set aside.
For the gravy: Add the butter to the same skillet the meatballs were in over medium-high heat. Once melted, add the beef stock, heavy cream, and garlic powder. Bring to a boil and reduce to a simmer. Simmer until the gravy has thickened, about 5-7 minutes.
To serve, add the cauliflower mash to a bowl. Place the meatballs on top and ladle the gravy on top.
Adapted from: http://www.evseats.com/cauliflower-mash-with-meatballs-smothered-in-gravy/
Comments
Jill's Loaded Baked Potatoes - Alisons Pantry Delicious Living Blog - […] Cauliflower Mash with Meatballs and Gravy. We know, it sounds more like a main dish- but, take out the meatballs…
Shepherd's Pie Casserole - Alisons Pantry Delicious Living Blog - […] if you're looking for something a little more low carb- just use Cauliflower Mash in place of the potatoes!…
Turkey Taco Lettuce Wraps - Alisons Pantry Delicious Living Blog - […] Cauliflower Mash with Meatballs and Gravy […]
Ground Turkey Stuffed Peppers - Alisons Pantry Delicious Living Blog - […] filling meal, but don't let that stop you! Some sides we love are Slow Cooker Green Beans, Cauliflower Mash,…
Keto Chicken Parmesan - Alisons Pantry Delicious Living Blog - […] complete this dinner, try serving the Keto Chicken Parmesan over a bed of Cauliflower Mash, or with your favorite…