Shepherd's Pie Casserole
Can I make this more low carb friendly?
So, if you're looking for something a little more low carb- just use Cauliflower Mash in place of the potatoes! This recipe is also perfect to use up some leftover mashed potatoes. But, there's nothing wrong with fresh mashed potatoes. You can also substitute the ground beef with ground turkey (#3568), but this recipe is already pretty safe for our low-carb friends.
How should I store this casserole?
This casserole will last in the fridge for 3-5 days, covered with foil or plastic wrap. You can freeze it as well, and store for 4-6 months to keep the best quality. If you notice an off smell or appearance, discard the casserole.
If you're a potato lover, check these out: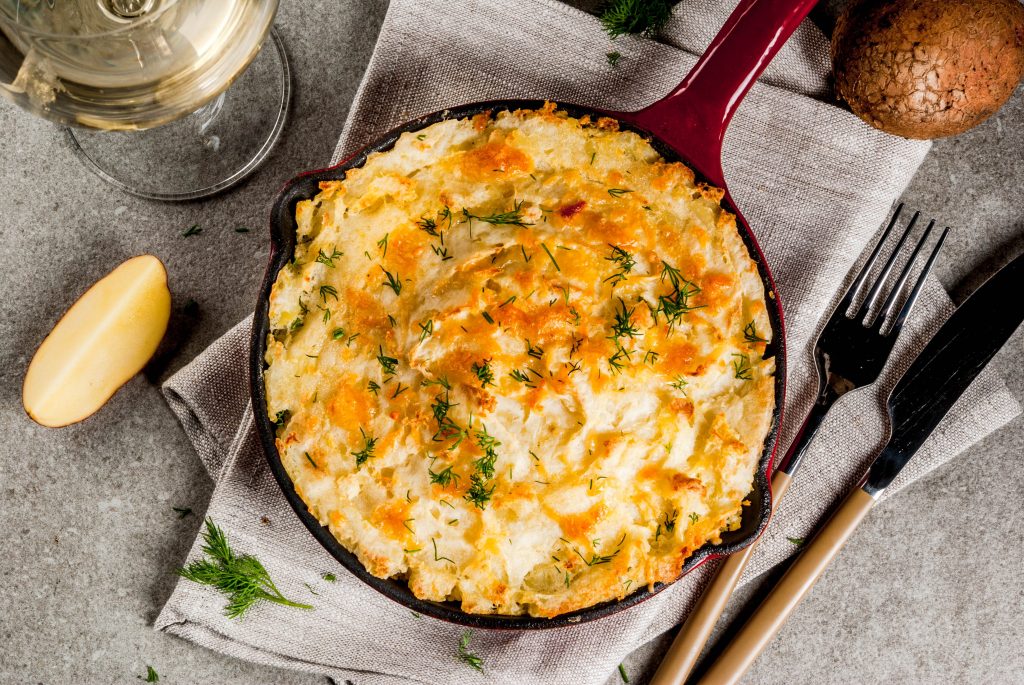 Shepherd's Pie is a delectable comfort food recipe with potatoes, ground beef, cheese, and other veggies that can be enjoyed year round.
Shepherd's Pie Casserole
Ingredients:
For Potatoes:
*1 1/2 lb. potatoes, peeled
Kosher salt
4 Tbsp melted butter
1/4 cup milk
1/4 cup sour cream
For Filling:
Instructions:
Preheat oven to 400°. Make mashed potatoes: In a large pot, cover potatoes with water and add a generous pinch of salt. Bring to a boil and cook until totally soft, 16 to 18 minutes. Drain and return to pot.
Use a potato masher to mash potatoes until smooth. Add melted butter, milk, and sour cream. Mash together until fully incorporated, then season with salt and pepper. Set aside.
Make beef mixture: In a large, ovenproof skillet over medium heat, heat oil. Add onion, carrots, garlic, and thyme and cook until fragrant and softened, 5 minutes. Add ground beef and cook until no longer pink, 5 minutes more. Drain fat.
Stir in frozen peas and corn and cook until warmed through, 3 minutes more. Season with salt and pepper.
Sprinkle meat with flour and stir to evenly distribute. Cook 1 minute more and add chicken broth. Bring to a simmer and let mixture thicken slightly, 5 minutes.
Top beef mixture with an even layer of mashed potatoes and bake until there is very little liquid visible and mashed potatoes are golden, about 20 minutes. Broil if desired.
Garnish with parsley before serving.
Recipe notes:
*For an easier option, sub with 1 1/2 lbs of our Lamb Weston Garlic Mashed Potatoes (#7944) for the potato topping.
Adapted from: https://www.delish.com/easy-shepherds-pie-recipe/
Comments