Meal of the Month: Teriyaki Chicken with Pineapple Fried Cauliflower Rice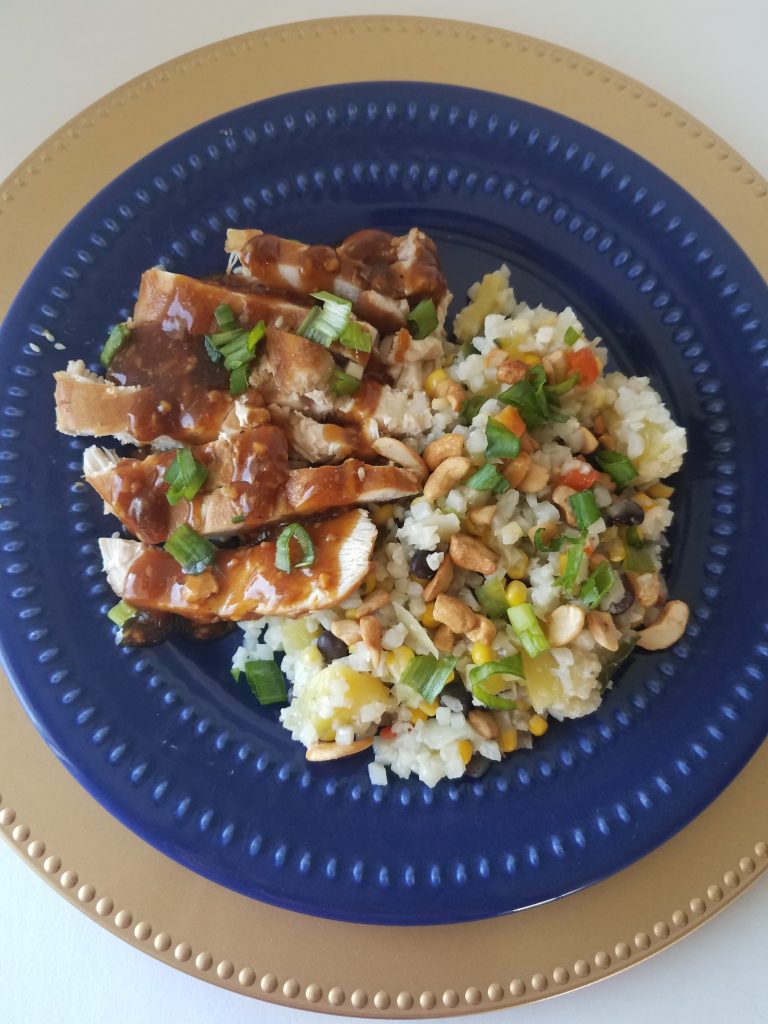 We're excited to share May's Meal of the Month! We tried a mouthwatering creation from Cinnamon Spice and Everything Nice — tender chicken with a sweet Asian sauce paired with healthy cauliflower fried rice . If you leave the pineapple out, it's even keto friendly (if you're into that sort of thing). Either way, it tastes fantastic, and we encourage you to check out Cinnamon Spice and Everything Nice for additional family-friendly recipes! The secret is the homemade teriyaki sauce. It's a great combination of sweet and tangy. And the best part is the cauliflower rice tastes so good you won't feel like you're missing out on a "carb". This recipe makes a lot of rice. There is plenty for lunch for the rest of the week.
Keto-Friendly Teriyaki Chicken with Cauliflower Fried Rice
Ingredients:
Sauce: (If you like a lot double this)
Pineapple Fried Cauliflower Rice:
Instructions:
Preheat the oven to 400 degrees F. Spray a 9×13-inch baking pan with non-stick spray. Place the chicken in the pan with space between them.
In a small bowl whisk all the sauce ingredients together. Remove about 2 tablespoons of the sauce to a small ramekin or bowl and set the rest aside. Brush the chicken generously with the sauce you removed.
Bake the chicken until cooked through 25 – 30 minutes depending on their size. Internal temperature should reach 165 – 174 degrees F.
Meanwhile: Pour the sauce you set aside into a small saucepan and bring to a simmer over medium heat. Simmer 5 – 6 minutes, stirring often. Remove from heat and put a cover on the pan to keep it warm.
Make the cauliflower rice: Pulse the cauliflower florets in batches in a food processor (or grate on a box grater) until it resembles chunks of rice – don't overdo it or it will get mushy.
Heat the oil in a wok or large frying pan over medium heat and add the red onion, garlic, ginger, corn and peas. Cook 3 – 4 minutes stirring often – if using frozen veggies it may take a few minutes longer.
Add about 3 cups of the cauliflower rice and the drained pineapple. Cook 3 minutes, stirring often.
Stir in the soy sauce and nuts.
When the chicken is cooked let it sit 5 minutes then slice thinly. Serve over the cauliflower rice – drizzle with sauce and garnish with green onions.
You can also add a couple beaten eggs to the rice – especially if you're not serving it with the chicken. Clear a space in the center of the pan – pour in the eggs and cook then chop it up and mix it into the rice.
Adapted from: https://www.cinnamonspiceandeverythingnice.com/teriyaki-chicken-pineapple-fried-cauliflower-rice/
Comments