Christmas Ham Leftovers
Some might say the best part of a meal is the leftovers…And for the Holidays, we couldn't agree more! Keep reading for a few delicious ways to use Christmas ham leftovers.
How long do ham leftovers stay good?
We suggest storing ham leftovers in an airtight container in the fridge for no more than 5 to 7 days. Or, store in a Gallon Freezer Ziploc bag for 3 to 4 months.
Some of our favorites: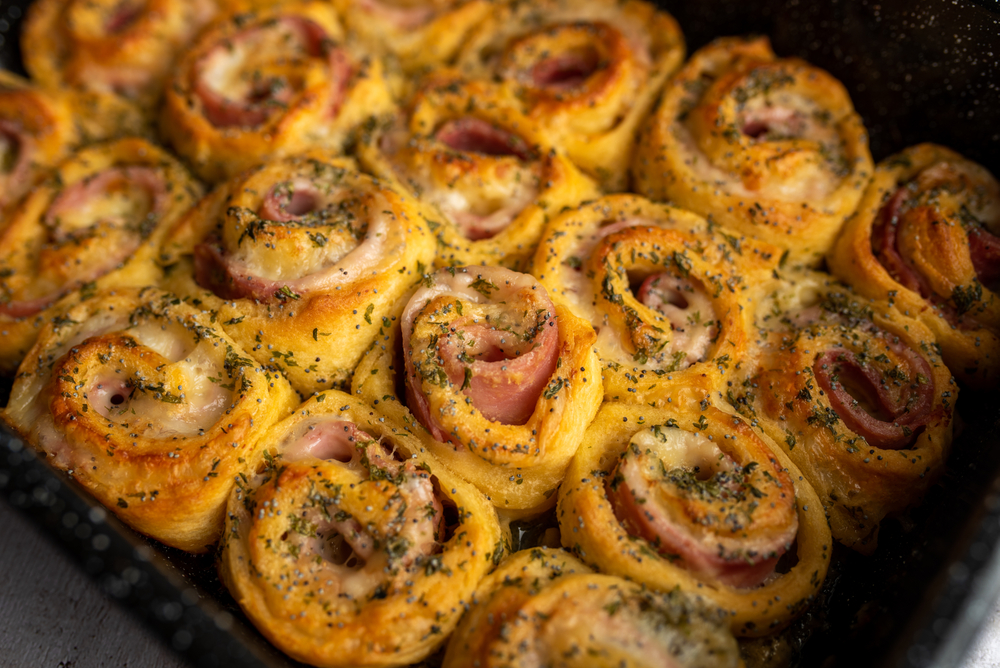 Leftover ham, swiss cheese, and dijon mustard wrapped in flaky puff pastry, then topped with a simple garlic butter and poppy seeds.
Ham & Swiss Pinwheels
Ingredients:
Instructions:
First, preheat oven to 350F. Then, spray an 8×8 pan with Vegalene Buttery Delight (#1576).
Now, spread mustard onto each puff pastry square, followed with sliced ham and swiss cheese. Then, roll up each square and slightly pinch the edges to seal. Cut into 5-1 inch pieces, then place into the baking dish.
Then, whisk together the butter, garlic powder and parsley. Use a basting brush to spread on top of the pinwheels, then sprinkle with poppy seeds.
Bake for 12-15 minutes, or until golden brown and flakey.
Adapted from: https://www.delish.com/cooking/recipe-ideas/recipes/a51423/ham-and-cheese-pinwheels-recipe/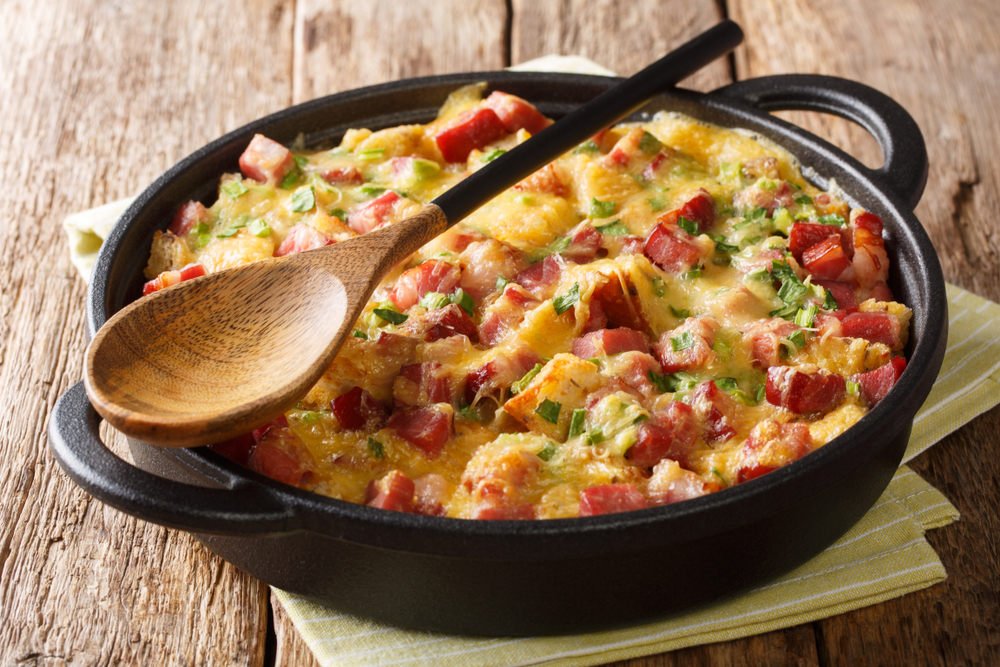 A delicious breakfast to use up leftover holiday ham! Prep the night before for an easy morning.
Overnight Cheesy Ham Strata
Ingredients:
Instructions:
First, grease a 9×13 baking dish with the butter. Then, add the chopped rolls*, chopped ham, and 2 cups of cheese.
Then, whisk together the eggs, milk, and spices. Pour over the bread, ham, and cheese. Cover with Kirkland Foodservice Foil (#) and place in the fridge overnight.
The next morning, preheat your oven to 375. Bake the strata for 30 minutes covered, and 15-20 minutes uncovered. Add the remaining cheese the last 5-10 minutes, and cook until cheese is melted and egg is cooked through.
Allow to cool slightly before serving.
*If you don't have 10 cups of leftover rolls, sub with cubed Rocky Mountain White (#1336) or Wheat (#1345) bread or Stone Ground Tuscan Mini Dinner Loaves (#8196).
Comments
Thanksgiving Leftovers Sandwich - Alisons Pantry Delicious Living Blog - […] Ham & Swiss Pinwheels Thanksgiving in a Pan Turkey Remashed SharePinTweet0 Shares 0Shares Share on Facebook Share on Twitter…