Slow Cooker Chicken Burritos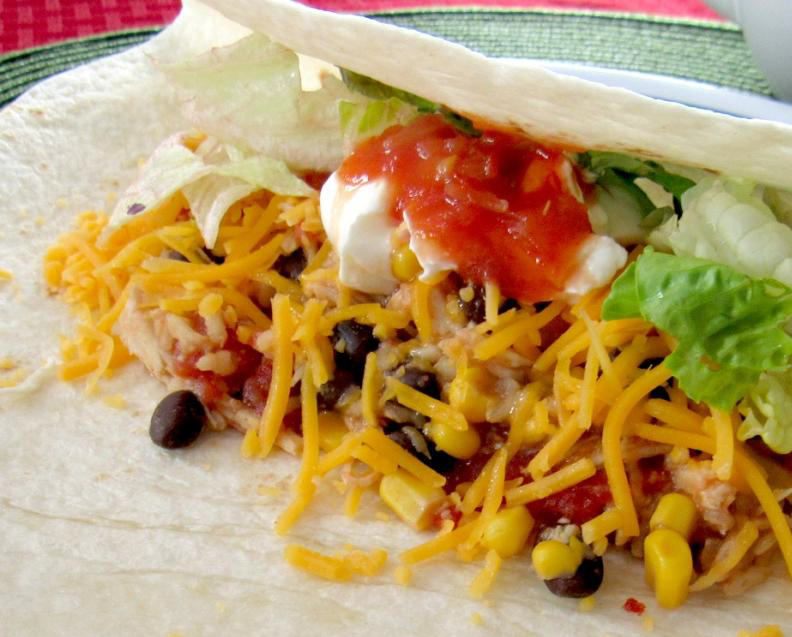 This simple recipe from our Alison's Pantry Rep Glenda Burton, takes just minutes to pull together. Simply toss the ingredients in your slow cooker, set it and forget it. Your family will love the tender chicken simmered in a flavorful mix of fresh AP spices combined with tasty black beans. You can really make it your own by serving it over rice, in a warmed tortilla, or even over crunchy tortilla chips to make chicken nachos. Each person can add their favorite toppings to create a dish everyone will love.
Slow Cooker Chicken Burritos
From Glenda Burton
Ingredients
1 lb boneless chicken breasts, approx. 4 breasts (#6519)
1 can black beans
1 cup frozen corn (#5349)
1 can diced tomatoes
1 cup brown rice or 3/4 cup Quinoa (#8940)
1 can chicken broth
2 tsp Chili Powder (#1014)
2 tsp salt, optional (#1146)
1 tsp Cumin (#1442)
Choice of toppings :
Shredded cheese (#1860), sour cream, diced green onions, lettuce, guacamole (#9247), salsa.
Directions
Line crock pot with Pan-Saver Liner (#1089).
Add chicken breasts, rice, tomatoes plus liquid, broth and spices. Cover and cook on low 3-4 hours – checking rice periodically. Add liquid as needed. Shred chicken breasts and add corn and beans; cook 1-2 hours longer or until rice is done. Serve on tortillas with favorite toppings and your favorite fruits from AP (we had Mango #2655)
Comments