Tips & Tricks for Cooking Shrimp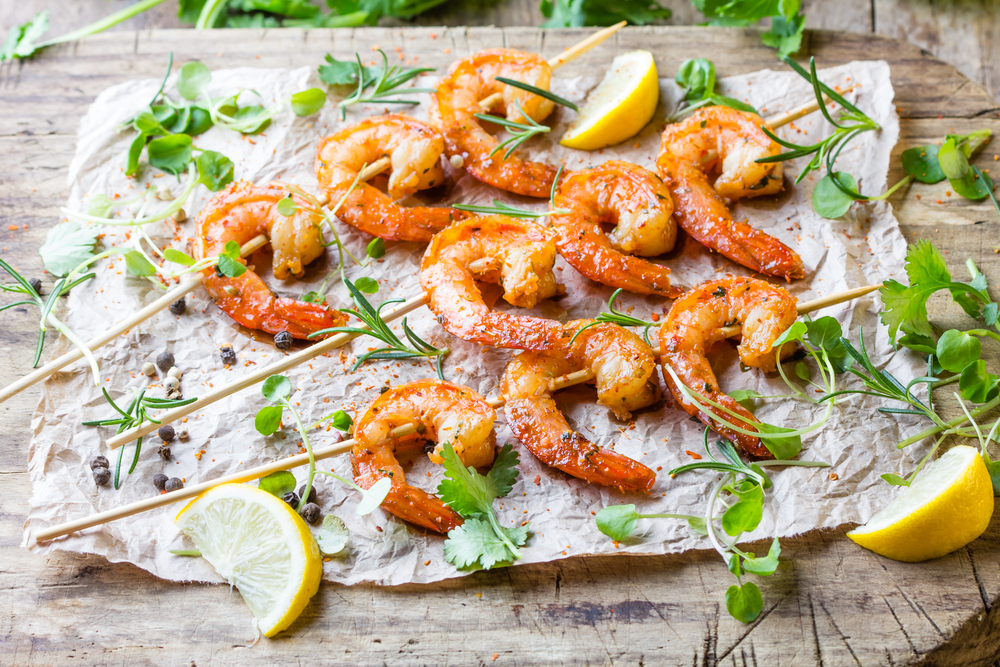 We tend to keep a bag of frozen shrimp in our freezer at all times. Not only is it something that doesn't take long to cook, making it perfect for a quick meal, it also doesn't require using an oven. Both of which are important as we head into the warmer Summer months. For National Shrimp Day, we're sharing some of our go-to tips & tricks for cooking shrimp.
For unbreaded shrimp, choose from AquaStar Black Tiger Shrimp Peeled & Tail On (#2806), Pacific Seafood Newport Peeled & Deveined Raw Shrimp 26/30 (#1545), or Pacific Seafood Newport Cooked & Peeled White Shrimp 31/40 (#1812).
How to get the perfect shrimp:
If you're using frozen shrimp, don't defrost in the microwave or with hot water. The best way to thaw shrimp is to let it sit in the fridge overnight, or run *cold* water over them. Make sure it's in a bag, or else it could get soggy.
Don't over cook it! Shrimp cooks fast- it typically only needs 2 minutes per side. Depending on how much you're planning on making, skewering them may be a good solution to ensure they're all evenly cooked and for easy flipping.
For tail-on shrimp, remove the tails after it's cooked and has rested for a couple minutes. This will help keep the juices in so you don't end up with dried up shrimp.
Cooking Methods
Whichever method you choose, don't step away while you're cooking shrimp. It cooks faster than you think!
Saute- on high for a shorter period of time, only about 2 minutes per side. For best results, toss the shrimp in desired seasonings before cooking. Meanwhile, preheat a frying pan with BBF Avocado Oil (#3516) or Kirkland Salted Sweet Cream Butter (#1723). It never hurts to add a bit of Kirkland Minced Garlic (#1289) and a squeeze of lemon juice, too.
Grill- best when marinated and/or skewered. Having a marinade or glaze helps prevent the shrimp from drying out, and adds a delicious flavor. They take only about 3 minutes per side, so it's helpful to skewer them to make sure they all get flipped at the same time. But, if you use wooden skewers, make sure you soak them in water before adding the shrimp, otherwise, the wood might burn.
Bake- in one layer so they cook evenly. If you're using frozen shrimp, make sure it's thawed and patted dry beforehand. For the best flavor and texture, we recommend drizzling with BBF Avocado Oil (#3516) lime or lemon juice, or even a bit of broth. Add desired spices, then top with a couple slabs of Kirkland Salted Sweet Cream Butter (#1723) and lemon wedges. Having liquid in the dish will help keep the shrimp nice and juicy. Cook at 400F for 6-8 minutes, depending on the size of the shrimp, flipping halfway through.
Add flavor!
When it comes to seasoning shrimp, you can keep it really simple and still end up with a delicious dish. Shrimp is basically the "chicken of the sea", because of how many ways there are to flavor it. Here are a few of our favorite ways to add some flavor:
Now that you know tips & tricks, try these recipes:
Comments